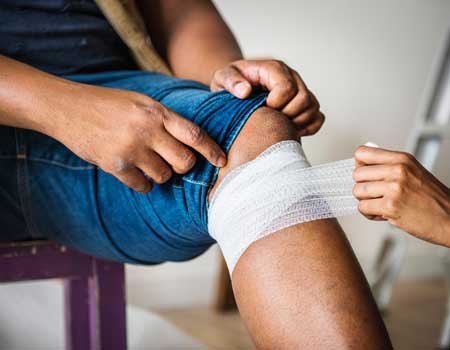 Personal Injuries, Negligence & Torts
Christos Paraskevas LLC specialises on all kinds of personal injury cases in Cyprus due to the negligence of others, including Medical and Clinical Negligence, Road Traffic Accidents and Work Accidents.
Personal injuries caused by negligence of the other party can be compensated sufficiently only if the victim seeks a professional legal guidance and assistance. Christos Paraskevas LLC may assist you and offer you the necessary support during the whole procedure.
Our legal team can help you claim compensation so that you can use the money claimed towards pain and suffering, medical expenses, lost salaries, temporary or permanent disability and other injury-related expenses.
We have assembled a team of dedicated legal professionals, who handle the following types of personal injury cases in Cyprus:
Medical and Clinical Negligence
In this area of the law we work with clients that have suffered injuries due to medical negligence in Cyprus. Medical negligence is a highly specialist area of Cyprus law and it is essential to obtain appropriate legal advice immediately from a lawyer who specializes in medical malpractice in Cyprus
We specialize and we recognize the complexity of the law applicable in cases of medical malpractice including:
Substandard surgery
Misdiagnosis medical malpractice
Clinical Infections
Unnecessary surgery
Cerebral Palsy Malpractice
Laser Eye Surgery Malpractice
Substandard care
Failure to provide diagnosis
Road Accidents
Road Traffic Accidents in Cyprus include a variety of situations which an individual may find himself or herself being a victim of someone else's negligence or fault. Injuries suffered from road traffic accidents can vary from minor whiplash to fatal injuries.
We represent clients on all type of road accidents in Cyprus such as:
Car accidents
Cycle accidents
Motorbike accidents
 Pedestrian accidents
Hit and run accidents
Work Accidents:
Similarly to all other claims for accident compensation, in case you have been involved in an accident at work in Cyprus, you may be able to make a claim for compensation for any injuries occurred during employment due to an unsafe work system, inadequate training or other factors.
Every employer has responsibility and duty of case in protecting their employees and they are obliged to provide employees with all health and safety equipment and to maintain the employment environment in a safe condition.
If you have been injured during your employment you may feel free to contact our law firm for a preliminary consultation. We will guide you through your chances of succeeding a personal injury claim against your employer as well as with an approximate estimation of the compensation you may be entitled to.
We offer a free initial consultation so that we will be able to assess your case accurately and advise as to the merits of your case, the chances of success and the amount you may expect as compensation.
Call us today at our law office +357 22432800 or email us at info@paraskevasllc.com for a free assessment of your personal injury case. If you are unable to visit us at our office, a member of law firm may arrange for a home or hospital visit.